ICCA recently caught up with Danielle Bounds, Sales Director ICC Wales, about their Protect Duty Report, winner of the 2022 Best Marketing Award announced at the 61st Congress in Kraków. Danielle and her team championed the work undertaken by Figen Murray who tragically lost her son Martyn Hett in the Manchester Arena terrorist attack in 2017. Protect Duty – which is now more commonly known as Martyn's Law will soon be written into UK law. The implication of how legislation will protect those attending – and working at – events has industry-wide significance.
Marta Gomes, ICCA President of the Board said: "ICC Wales won because the Protect Duty Report is a really interesting and important story. It's not just about marketing a destination, but about improving security in convention centres. It is easily adaptable by others too, and as Best Marketing Award winners, it will have an even wider impact about improving security in all venues, and protecting people who use them for work and leisure."
Senthil Gopinath, ICCA CEO, added: "Such a powerful and important campaign, one conducted with real commitment and passion. The team at ICC Wales deserve recognition for tackling such a difficult subject with compassion, clarity, and purpose." 
Read about Danielle's recollections here.
Tell us again about your winning entry, The Protect Duty Report aka Martyn's Law?
It started in January 2022 when I attended a round table event on security in UK events where security professionals were talking about Martyn's Law – or Protect Duty as it was known then. I knew it related to the Manchester Arena terror attack, but I didn't know too much about it and I decided to do some research. I then found myself at a trade show and one of the speakers was a remarkable woman called Figen Murray – Martyn Hett's mother. She talked about how she was trying to make changes in the event industry because, as we all know, there are rigorous health and safety requirements that you must meet when you hold an event, but there wasn't the same focus on security. I found her to be so wise, compassionate and inspiring, and so full of common sense, that I felt absolutely compelled to take up her cause. So, I came back to ICC Wales and said right, I've got a bright idea. Let's make our annual report all around Protect Duty.
What – in your opinion – helped it meet the brief of Disruption in Marketing?
There was much discussion about this at all levels within ICC Wales. We weren't talking about a glossy topic, something you might expect to talk about in terms of a marketing and sales perspective. But we were talking about an incredibly important issue. We realised what clients want is education and the best marketing educates. Our campaign was a proper thought leadership piece, something nobody else in the industry was doing.
We sent a survey to the ICC Wales client base and our Celtic Connection network and when the stats came back from the report, more than 2/3 of the people had never even heard about Martyn's Law. There was a very big knowledge gap that needed bridging so that gave us the ammunition we needed to take the campaign forward.
We looked at what we could do and created a road map about what this initiative could do for the industry as a whole, not just for ICC Wales clients, but for the whole events industry to raise the awareness of Martyn's Law and how ultimately, we can take care of people by bringing everyone along on this journey. See their winner project here
It's an incredibly moving story; how did the raw emotion around the campaign shape your thoughts and feelings around entering?
I must admit to being a bit of a geek when it comes to marketing and the BMA award. My first ever ICCA Congress was in 2015 in Buenos Aires and I'd never been to anything like it before. So, my background prior to the ICC Wales was very much in the corporate sector, where everything is rather closed off and nobody shares anything. Joining ICCA, and that whole learning/ICCA family/sharing knowledge culture just blew my mind. I was in Buenos Aires and I watched the Best Marketing Award presentation and the stand out finalist was Halifax in Canada. I remember exactly to this day their entire presentation and I thought when I was sat there in the audience - and this is completely cheesy - one day I want to be on that stage, and I want to win this award as it is so industry-leading. It's iconic and I think, if you have a strong story to tell, you must enter. But finding the right story is often the greatest challenge.
Every Congress I went to I devoured the BMA sessions because I found the content so compelling, seeing what my peers were doing was a constant source of inspiration. When the 2022 category was announced as Disruption in Marketing I thought 'this is it, the stars are aligned, let's use Martyn's Law as our campaign.' I knew the risks involved as the subject matter was so serious and so important, but I also recognised the rewards because, if we managed to get to the Congress stage, we'd have a thousand extra pairs of ears, people working in and around our industry, who would hear our story and recognise the issues we were raising, were relevant to us all. And that became the focus: getting the message to the right target audience, the people who can make a real difference.
What was the reaction like when you were announced as a finalist?
It was amazing! To be shortlisted was phenomenal. And then it was like oh gosh, the reality of how we are going to deliver this when you've got so many different languages, so many different cultures, so many different countries, so many different challenges around security as well. Tonally too, what we were saying was very serious and very sombre. But we all knew, with all our hearts, how much it mattered… and I think that gave us strength to go into Congress with a real sense of belief and purpose. See ICC Wales winner project and the other 2022 finalist here 
Describe your feelings around the big pitch in Krakow?
It is big and it is scary but not as big and as scary as you might think because it is also exhilarating. You feel so… alive with the thrill of it. If you've got a campaign and that has worked, or that you feel is important, share it, tell people about it, because there are people doing amazing things and I think we're all enriched by exposure to these stories.
I also think that if you've already done the work then you've done the hard bit. By the time it came to Congress we knew our story but the sense of 'we're going to be on that stage tomorrow' is overwhelming. Then we did a practice run with Patrick Delaney – who is Mr. BMA - and I have to say Patrick is phenomenal! He guides you through that process brilliantly. So, we did our practice on the stage and everything was fine. I should also add, we really got to know the other finalists so there was a true sense of camaraderie and mutual support. See their presentation here 
And that winning feeling?
I was bawling my eyes out. It was so embarrassing because I was sat there thinking 'I'm going to be sick.' Everything was in slow motion and then Wales popped up on the screen, but I didn't hear it being said for what must have been a split second but it felt like 10 minutes. Then I heard 'Wales' and looked at my colleague Vanessa and we both started crying and I thought I would never stop. It felt like a childhood dream coming true, which is surreal because my first Congress was when I was in my 20s! And then we went onto the stage, and I was thinking 'don't trip.' Patrick asked if we wanted to say something, and I genuinely felt like I couldn't speak, which is most unlike me!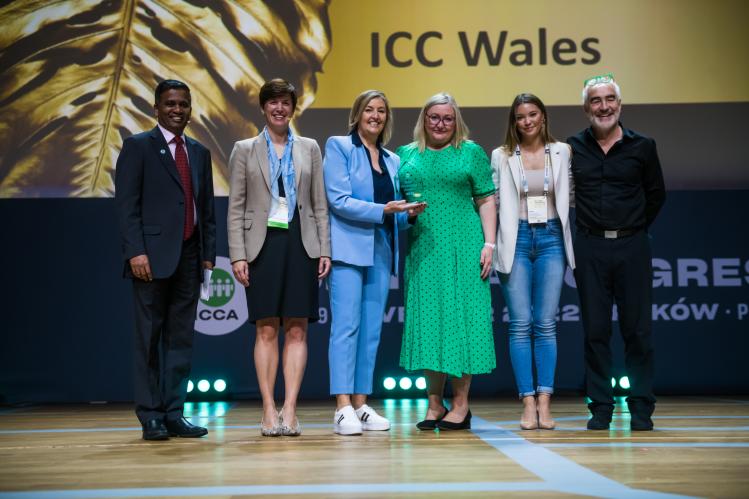 Describe the reaction in Wales, in the events sector and more importantly, with Martyn's mother and family?
My first thought was I need to tell Figen. I need to tell her that we've won, and I need to tell her that a thousand more people now know about her cause which is just phenomenal. She said: 'you've done such amazing work, thank you from the bottom of my heart!' And then she said, I know that Martyn would be so, so proud. There were a thousand more people across the world in that hall who now knew and who might be inspired to apply our story to their events.
Wales is a small and fiercely proud country, so we do like to celebrate our success especially when it is on the international stage. It was picked up by the Welsh media and government. It was picked up across event industry publications and it was everywhere, which again just really helped the messaging and the reasons why we were doing it. And the work has continued. We have created an event industry working group that feeds into government. Back in December, about a month after Congress, draft legislation pointers came out, so we held a master class for 280 people at the start of this year where we updated them on what had come out of the Home Office, things they needed to start considering about how Martyn's Law applies to them. We've continued that training, and recently, draft legislation was released, and we gathered our group together to feedback on the proposals, which has now gone back to the UK parliament for further scrutiny. We're still educating people and we're feeding into government to help shape what's going to come out when the law comes into place in 2024.

What traction has the campaign gathered since?
I was in IMEX back in May and I was about to have a break and I went into our little enclosed area at the back of our stand and this lady came up behind me and said 'Danielle, please can I talk to you?'
I didn't know who she was as I'd never met her, and she said, 'I'm so happy to speak to you.' We started chatting and I discovered that she was from Ukraine, and she said she was at the ICCA Congress and saw our presentation. She wanted to talk to me about how our experiences can help them relaunch their business events post war. It was an incredibly humbling moment but one that filled me with real pride. It showed the reach of the award, the potency of the ICCA community, and the belief that hope can be found in the darkest of places. And it is hope that connects us all. It is hope that Figen Murray believes in and champions in Martyn's name.
As someone who has followed the Best Marketing Award, and as a winner, what do you say to those marketeers out there thinking about entering?
If you've got a campaign that has worked, or that you feel is important, tell as many people as you can about it. If you've already done the work, then you've done the hard bit. Be proud. Share it. Believe in it. Get everyone talking about you and your campaign. Market it to the most engaged, invested and passionate target audience you will ever meet.
Do you have a marketing campaign that Goes Beyond The Obvious? Then share it with the ICCA global community and enter into the 2023 Best Marketing Award here.