ICCA Destination Comparison Tool
The perfect tool for analysing your current position in the international meetings market and targeting your future marketing plans.
Analyse over half a century of association meetings data with the new ICCA Destination Comparison Tool:
Create reports on worldwide, regional, country and/or city level
Filter on specific year ranges, meeting sizes and subject matters
Compare up to 5 countries or cities
This ICCA product is designed to improve your knowledge of the market and your competitors, and ultimately to help you win more international association meetings business.
The Destination Comparison Tool can improve the efficiency of your marketing and sales efforts.  It's a really simple-to-use tool but it can provide a wealth of sophisticated, sales-relevant information.
The ICCA Destination Comparison Tool enables you to compare the following characteristics of the five destinations over the last 50+ years:
Total number of meetings per destination
Rotation areas of the meetings organised per destination
Homebase of the international organisations organising the meetings per destination
Size of meetings per destination
Average number of participants to meetings per destination
Estimated total number of participants per destination
Favourite months of meetings per destination
Average length of meetings per destination
Suppliers used per destination
Subjects of meetings per destination
Log in to the My ICCA section to access this online ICCA Business Intelligence Tool.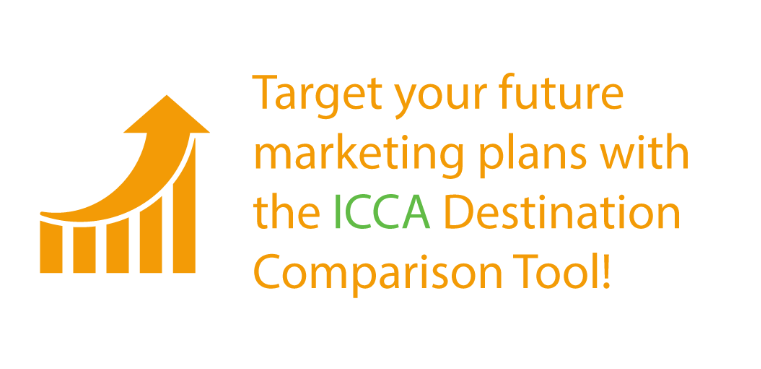 "The Comparison Tool makes it quick and easy to compare Kyoto with other destinations at a glance, so that we can learn about the number and type of meetings that take place elsewhere. Being able to make comparisons from a variety of viewpoints helps us see opportunities to develop and expand our own strategies."  – Yoshi Matsui, Kyoto Convention & Visitors Bureau
"Whenever we like to know trends of association meetings or our position in the world, ICCA Destination Comparison Tool is great help to get an answer. It is easy to use and always gives the updated information." – Etsuko Kawasaki, Japan Convention Bureau / Japan National Tourism Organization
"We at GainingEdge, rely on a number of data sources when we develop our competitive indices. The ICCA Destination Comparison Report is one such source where we can compare business occurred (or number of conventions hosted) within ICCA's scope of international association meetings among cities. These statistics open up other possibilities for us to analyze and use the data."  – Jane Vong Holmes, GainingEdge
"The tool provides information that is useful in several ways. It shows a clear panorama of the historical behavior of ICCA events organized in different countries. This allows comparison between countries and cities, depicting a clear panorama of Colombia's position worldwide. It also allows us to identify global trends and to set yearly goals because of how the information is presented. This tool provides information about events, how often they are attracted and the regions of preference by international organizations, this data is valuable because it helps us understand they way the meetings industry is working." – Daniela Rodriguez Lemaitre, ProColombia