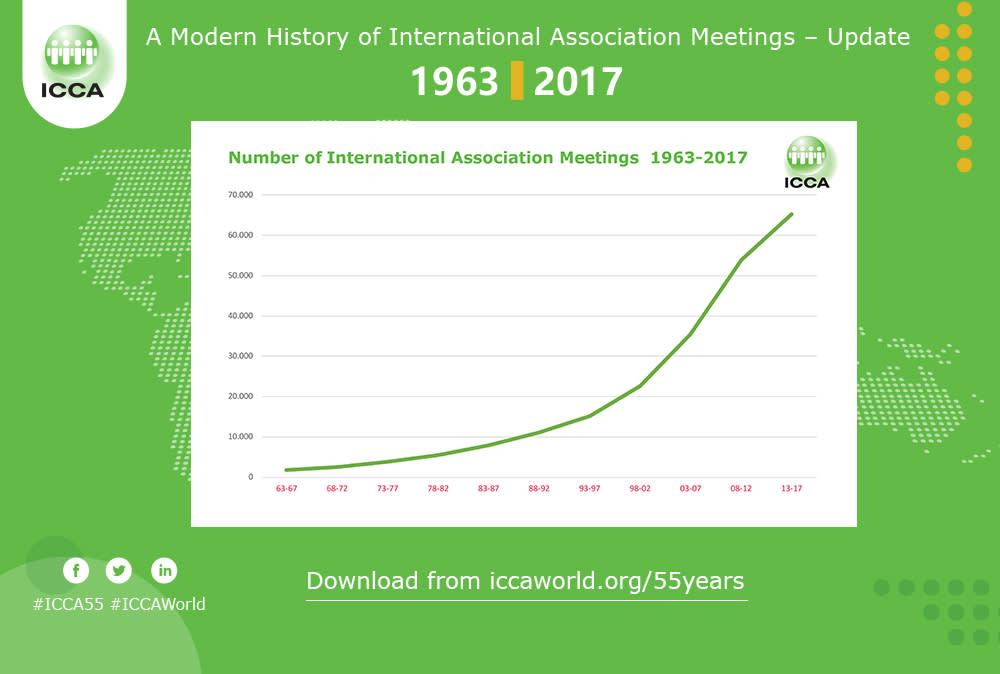 ICCA's newest industry report "A Modern History of International Association Meetings – Update: 1963-2017", released to celebrate the global association's 55th anniversary, reveals the results of an extensive study on the 55-year growth of the international association meetings industry. The report marks an important milestone in ICCA's history and celebrates the continued influence of international association meetings on global progress in fields such as science and technology. The report is publicly available on the ICCA website.
The number of international association meetings doubled every 10 years from 1963 to 2013. According to the current data, this exponential growth trend seems to have slowly transcended into a more mature, yet still solid, growth pattern in the last 5 years. The number of overall participants has increased across the board. The average meeting size has decreased, but more meetings are being held on a more frequent basis.
Association meetings a continuing force for progress in the world
The continuation of the robust growth in the number of the international association meetings is a direct indication of the market's role as a continuing force for global progress. Therefore, the parallel between the growth of association meetings and progress in the fields of science, healthcare and technology is no coincidence. Association congresses are largely driven by advances in these fields; the unprecedented levels of discovery and innovation that are the hallmarks of recent decades are giving birth to entirely new associations and conferences, which are in turn stimulating further advances, new business opportunities, and fresh insights.
Association meetings are also important drivers of societal change and opportunities to address and understand the world's most challenging problems, with expert thinkers brought together from government, industry, NGOs and academia to share knowledge and find solutions. To illustrate how this process works, ICCA's 55-year industry report includes case studies of the impact of association congresses, which demonstrate that the value of international meetings extends far beyond the immediate economic impact of the delegates on their host destinations.
ICCA pioneers the celebration of meetings industry legacy
Ensuring the long-term impact of business events has in recent years become of primary concern to professionals across the meetings industry. In partnership with Best Cities Alliance, ICCA is pioneering the celebration of legacy with the Incredible Impacts Programme, created as a platform for international associations to advocate their positive societal impact; those association meetings with proven impact win a grant of USD 7,500 to put towards future legacy projects. Currently in its second year, the programme has collected inspirational legacy case studies from associations in many industries, with several included in the new report.
ICCA President Nina Freysen-Pretorius said: "The results of our 55-year advocacy report demonstrate how new avenues of possibility are opening up for our industry with this new phase of growth; to ensure our industry's continued longevity, we must adapt to any upcoming challenges that rapid societal developments will bring.
The submissions we have received for our Incredible Impacts Programme show the innovative nature of our association sector colleagues and demonstrate that our industry will always play an important role in solving complex societal challenges."
ICCA Interim CEO Dennis Speet said: "The 50-year advocacy report we published back in 2013 provided such valuable insight and perspective on our industry's development that we decided to update this report in 2018 for our 55-year anniversary. Apart from 55 years of international association meetings data from our Association Database, this newest edition focuses even more on the legacy of our industry by showcasing the case studies from our Incredible Impacts Programme, amongst others.
In addition, we have updated the links to further industry publications, and included thought leadership pieces from Professor Leo Jago and our media members, who have shared their perspectives on 55 years of international association meetings. We would like to thank all members and ICCA friends for their valuable contributions to this ICCA milestone publication.